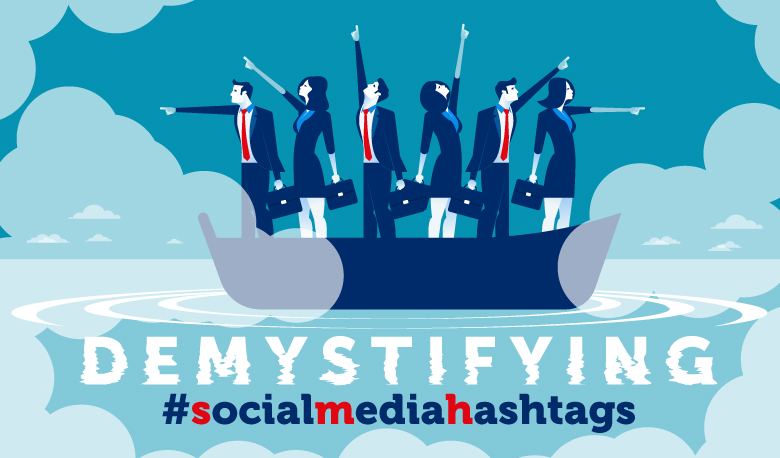 With the huge rise of social media marketing, hashtags play a very prominent role in effective marketing practices. Used properly, they extend your online reach and visibility and advance your brand's reputation. On the other hand, used improperly they will negate the effectiveness you put into all the planning, writing and posting that you do.
According to a study conducted by RadiumOne, 58% of people on social media platforms use hashtags on a regular basis, and almost half of those people explore related content by clicking on hashtags.
—MarketWired.com
A Very Short History
Hashtags were first introduced in 2007 by former Google employee, Chris Messina as a way to organize content on Twitter. The word "hashtag" has since been added to the Oxford dictionary in 2010 and the Scrabble dictionary in 2014.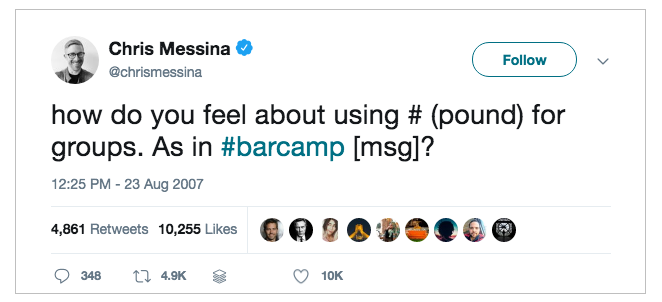 Breaking Down the Mystery
Now a well-established social tool, hashtags are important to include in your online marketing, which includes pay-for-click, online advertising, blogging and social media postings. Hashtags serve to:
Categorize social media content;
Find other related content;
Find social accounts related to your topic;
Find your website and others related to your topic;
Boosts sharing and liking;
Increase your company's credibility.
Let's start with the basics…
Choosing Effective Hashtags for Your Business
In the giant sea of hashtags with virtually infinite options, how do you make the best choice for your business?
It all begins with your target audience. Who are they? Where are they? What are they reading?
Just like keywords for SEO, hashtags need to be carefully selected to reach the greatest number of people who you want to read your content. The more specific you are with the hashtag the more interested your audience will be in reading your content.
Here's an example:
You're aiming to target marketing professionals in the A/E/C (architects, engineers, contractors) industry. It's not effective to use the #marketing hashtag. It might be relevant to your content, yet it's way too broad. A better hashtag is #AECmarketing, which directly targets marketers in the industry you want to reach.
Choosing the Best Hashtags for Your Content
Think of social media as a virtual global party. There are literally millions of conversations happening at any given time. The best way to enjoy the party and get the most out of your social media posts is to research hashtags that already exist, thus joining in the global conversation by using those hashtags.
Here's how it works…
When you click on a hashtag within, let's say, a Twitter post, you are redirected to a new page with a feed of all of the posts that have used that hashtag. It's like seeing a search results page. For example, look at this post by SMPS San Diego (see below). Click on the hashtag that you want to search within the post, in this case, I clicked #beachcleanup since Comet Creative is interested in other organizations that help the environment.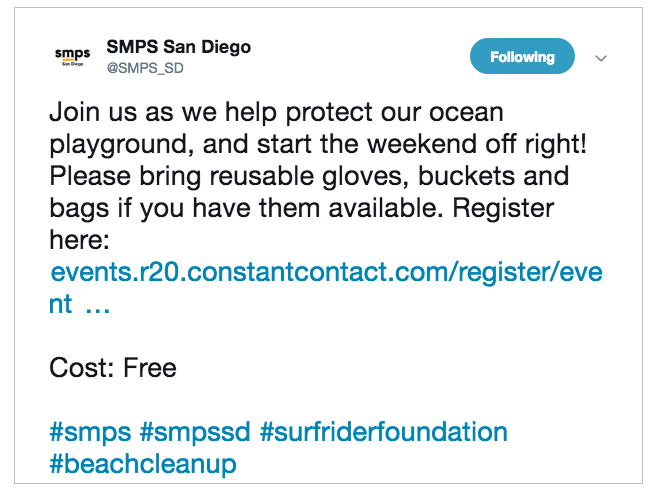 The hashtag #beachcleanup takes you to a feed of all of the posts that have ever used #beachcleanup. You can filter the feed by top-performing posts, most recent posts, the user account, posts with photos and more by clicking the tabs at the top of the menu. As you can see, it's easy to find and follow people or businesses that have content related to beach cleanups. Any future posts that use #beachcleanup will also end up in this feed.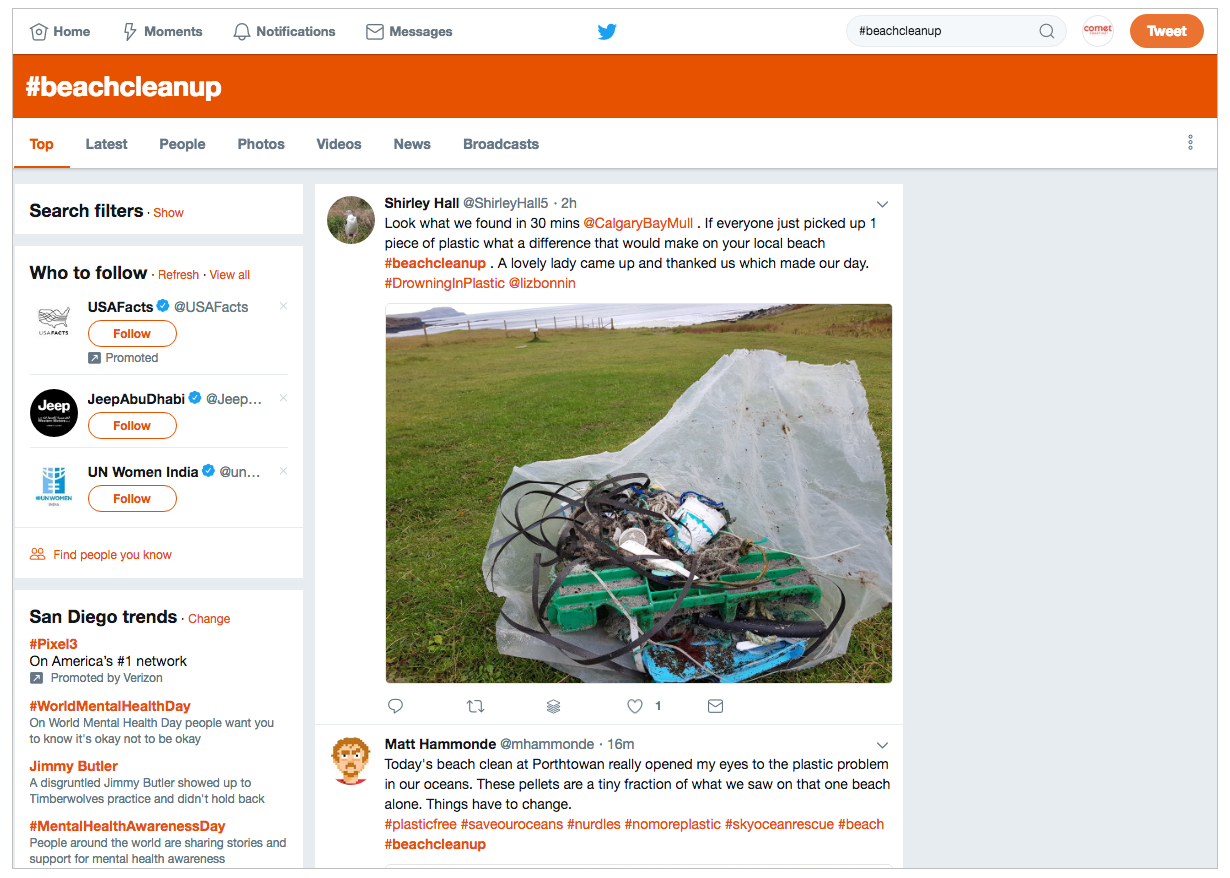 The Twitter search bar is another way to navigate to a hashtag feed. Type the hashtag that you want to search and the results will display the feed for that hashtag.

Examples of Hashtags
The subject of your content can vary greatly, but it will usually fall into one of these categories:
Specific services (#AECBranding, #ContentWriting)
Industry-related topics (#BuildingMaterials, #BiotechStartup)
Specific interests (#HikingCulture, #Branding)
Events, conferences, awards and charity activities (#ComicCon, #AnimalRescue)
Holidays or celebrations (#HappyHolidays, #Archtober)
Popular culture topics (#EqualityForAll, #GameOfThrones)
Days of the week (#MarketingMonday, #TBT)
Explore Your Options for Hashtag Research
There are several tools available to research hashtags. The best hashtags are the ones that already exist. Hashtags have a life of their own, a past, present and future, and with the fluid nature of the Internet, they are constantly changing.
Hashtagify.me is a free tool that allows you to search specific hashtags, find numeric data, and discover hashtags that are related to your search. You can also see top influencers and real-time examples directly from Twitter.
RiteTag is a powerful tool with instant hashtag suggestions and up-to-date data on hashtag engagement.
Twitonomy is a great resource for finding personalized hashtags that relate directly to your Twitter posts and data that shows who is most engaged.
Consider Branded Hashtags
Besides common uses, businesses often employ branded hashtags to enhance their marketing strategies. These are hashtags created by a company specifically for the brand or its products. They represent the brand persona in a clear and connected way, fit within the voice and tone and are most often event-based (#SMPSBB18), associated with a marketing campaign (Tom's #WithoutShoes) or they promote a product or service (#EatASnickers).
Tips for creating your own branded hashtags:
Be specific. Broad topics (#AIA) won't get as much traction as a more targeted hashtag (#AIAOC).
Correct spelling is critical!
Watch out for unintended readings by being careful and selective about your word combinations.
Optimal length is about six characters. Longer hashtags are harder to decipher and cost you precious characters that could be used for your content.
Make them unique yet easy to remember.
Focus the hashtag on one message that is directly relevant to your content.
Avoid using slang.
The best hashtags are the ones that either intrigue readers or the ones that practically go unnoticed because they are well-integrated into the social landscape.
Aim for that sweet spot where your hashtags will be useful to your readers without distracting from your message.
Hashtag Best Practices to Keep in Mind
The best hashtags are simple, targeted and readable.
No spaces or special characters. Hashtags can only include letters and numbers.
Shorter is better. Too many words strung together can be difficult to read and disrupts the flow of your copy.
The average number of hashtags per post varies. Two to ten is optimal.
Make sure that your social accounts are public, not private.
Avoid over-tagging a single post or adding them to every word. Aka spam!
Only use hashtags that related to the topic of your content.
Do regular research to make sure that your hashtags are relevant and up-to-date. The best hashtag for your content right now may not be the best in a few months.
---
Did you find this content useful? Our purpose is to provide information that advances the understanding and practice of branding and marketing communications by informing and empowering our readers. Let us know how we're doing by contacting me with questions, comments or pats-on-the-back. ☺